New York,
September 9, 2010
Lyn Devon:

Lyn Devon said, her idea for the SS collection 2011 was to create looks for woman to make them look polished and all suited up but in a playful way. She combined blouses with giant bows and dots made of shiny black pearls with straight cut pants. Most of the outfits are black and white but some pieces are green or red aswell. Somehow i think Blair Waldorf would love the whole collection. My favourite is the green dress in the second row.
Jen Kao:

Even though Jen Kao used a sandy runway for her presentation she said she didn't think of extremly well dressed beach girls, her vision was all about ladies walking through the desert and still looking chic. See through blouses, Organza, Silk, drapes and layered dresses in dusty, pale colours dominated the runway. I'd describe the collection as dreamy and mystical, i think some of the models even look like pixies. I can't decide which one is my favourite, i love all of them.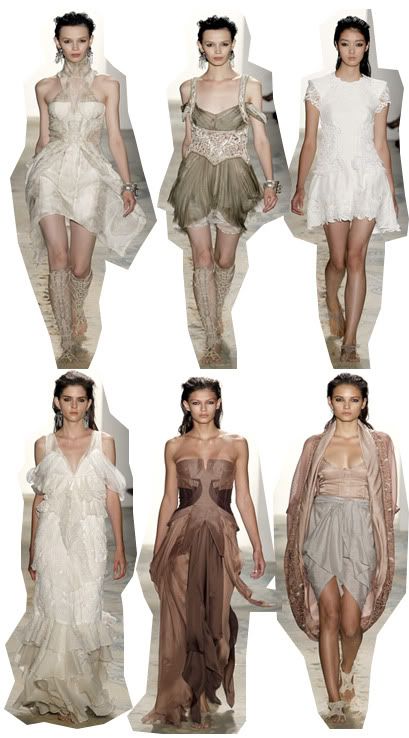 Bensoni:

Benjamin Clyburn and Sonia Yoon were, as usual, inspired by the seventies. I love how the balanced out crazy, colourful mixed prints with futuristic, straight jackets or dresses. My favourite is the first dress in the top row with the beautiful volants and the first outfit in the second row, with the colourful coat, that really reminds me of bollywood somehow.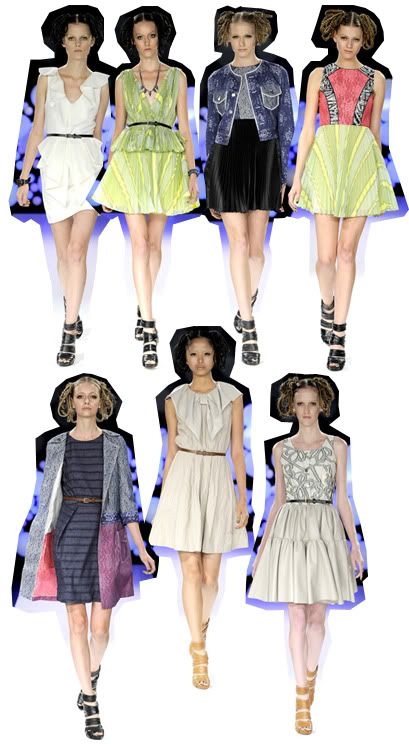 Ruffian:

The designers of Ruffian really know how to mix feminine with masculine. All of the outfits looked like military uniforms spiced up with satin belts, A-line skirts or high waisted trousers. Ambassador jackets made of shiny fabrics in olive or royal blue blouses and even sequined camouflage fabrics wonderfully combined military style with the glamour of the 21st century. But i guess the designers were aswell inspired by Africa as you can see on the first two outfits in the bottom row. My favourite one is the white dress in the first row, i love the golden buttons, oh and i also like the shoes.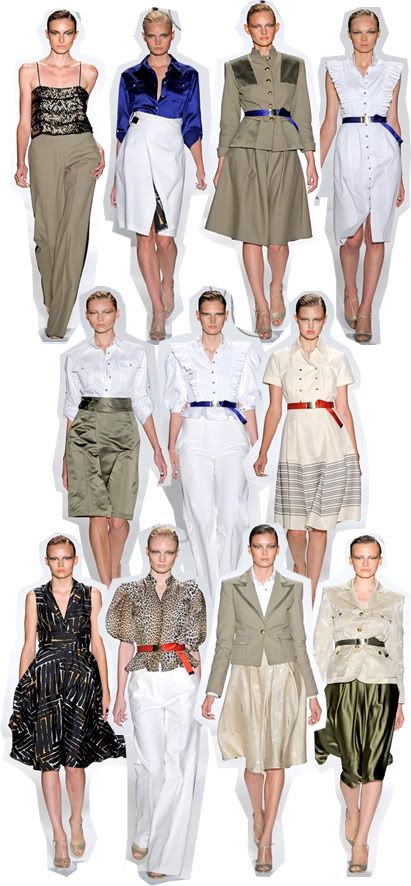 All of the information, and the pictures via
Style.com