New York,
September 10, 2010
Doo.Ri:

Doo-Ri Chung focused on ivories, beiges, mint and buttercup. It's a very natural collection, the neutral colored clothes were made up with ruffles, beautiful textures, assymetricy, drapes and see-throughs. I think it all looks very chic and girly but all of the clothes have this sexy little touch woman love so much. Again I couldn't choose a favourite, I'd wear every single outfit.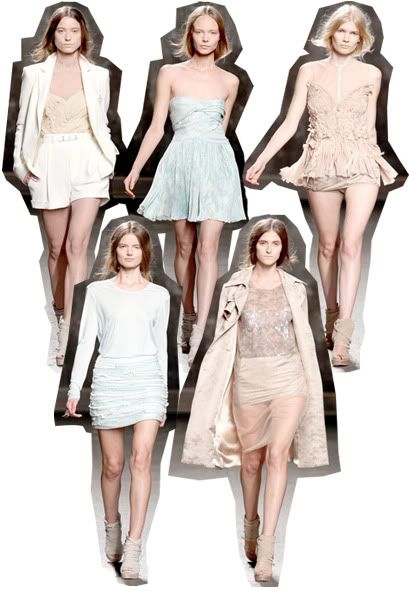 Jason Wu:

At first I have to say, that's definitely my favourite collection so far. Jason Wu's brand is only four years old, his super sexy and feminine SS collection was inspired by the paintings of the Brasilian artist Beatriz Milhazes. I love the way how he combined loose, see-through blouses (i totally love these!) with straight cut, lean trousers or jackets and all his flowery and flattering dresses in bright colours. My favourite: ... all of them.

Julian Louie:

Julian Louie was also, like many designers right now, inspired by Africa. He mixed African garments with pieces of American athletic wear. I love the little tassels and the shoes. My favourite outfit is the last one.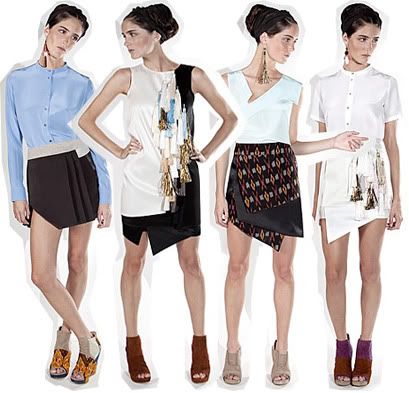 Peter Som:

Peter Som said that clothing and dressing up means joy to him and that's what he wanted to show everybody and what fashion is all about. I think he's right, fashion should make you happy and all his mixed prints and his wide range of bright colours make me happy, for sure. And please look at the gorgeous platform Mary-Janes in pink or blue, so beautiful. My favourite is the first outfit in the second row, i'm diggin' these ruffles.

All of the information, and the pictures via
Style.com